Calaveras County To Appoint Interim Public Works Director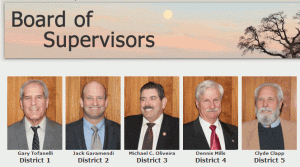 Calaveras County Board of Supervisors

View Photos
Sonora, CA — Following the resignation of Jeff Crovitz last month, the Calaveras County Board of Supervisors have picked an interim director of the public works department.
Crovitz's last day was Tuesday, so next week the board will formally adopt a contract with interim replacement Mathew Boyer. He is currently the President of his own firm, Mathew C. Boyer & Associates, based in Sacramento. The meeting documents note that he has expertise in transportation planning and project management. He also previously served as the Director of Transportation for El Dorado County. The salary for Boyer will be the same as what was budgeted for the outgoing director, Crovitz. It is expected to take 3-5 months to hire a permanent replacement.
Tuesday's supervisors meeting begins at 9am at the Government Center in San Andreas.
At 1:30pm, the board will kickoff what is expected to be week-long budget hearings ahead of the adoption of a new fiscal year 2018-19 spending plan. Additional budget hearings are tentatively planned for Wednesday, Thursday and Friday starting at 9am each day.