Update: Vegetation Fire in Soulsbyville Area Contained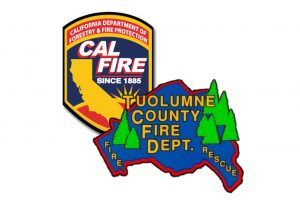 Cal Fire - Tuolumne County Fire Department Logo

View Photos
Update at 4:30 p.m.: CAL Fire reports the flames were extinguished at a 50 foot by 100 foot spot before engines arrived on the scene, which was updated to Lawler Drive near Oman Drive off Highway 108 in the Soulsbyville area. CAL Fire spokesperson Emily Kilgore reveals what sparked the blaze, "It was caused by equipment use. We have a property owner who was trying to do the right thing in their defensible space clearance, but went about it in the wrong way." She went on to advises the public, "We encourage all property owners to use their equipment before 10 a.m. as the conditions continue to dry out in the area."
Kilgore adds that whether the person will be cited has not yet been determined.
Original post at 4 p.m.: Soulsbyville, CA — Air and ground resources are heading to a reported vegetation fire along Highway 108 in Tuolumne County.
CAL Fire reports the flames are in the vicinity of the highway and Soulsbyville Road in the Soulsbyville area. Several homes are reported to be nearby. However, there is no word on the fire's size or the flame's rate of spread. We will bring you more details as soon as they come into the news center.