New Cell Tower Up For Debate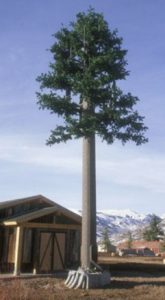 Similar monopine wireless cell tower

View Photos
Pine Mountain Lake, CA – AT&T wants to erect a wireless cell tower made to look like an evergreen in the Pine Mountain Lake area just under a mile away from a runaway at the airport there.
The Tuolumne County Airport Land Use Commission is holding a public hearing to get the details on the plan and decide whether to approve a conditional use permit to construct the telecommunication tower for AT&T's "Epic Wireless Service." It would be located at 12104 Clinton Road, south of the intersection of Ferretti Road on 17.6 plus acre parcel. The tower itself would be a 160 plus foot tall monopine wireless tower. The facility would also have related equipment and a shelter within a 40-foot by 45-foot chain-link fenced around the compound.  Currently, the property is zoned General Agricultural, Ten Acre Minimum: Airport Combining.
The meeting will take place at 6 p.m. tonight at the Columbia Airport Director's Office at 10723 Airport Road.  If the permit is approved, it heads to the Tuolumne County Planning Commission for a vote, but currently no date for that public hearing has been set.