Tuolumne County Transit Debuts Seasonal Pinecrest Service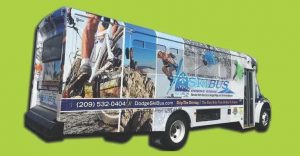 Tuolumne County Transit Bus

View Photos
Pinecrest, CA — Following an influx of state cap-and-trade carbon reduction grant funding, Tuolumne County Transit has started a new seasonal weekend bus service to Pinecrest Lake.
Darin Grossi, Tuolumne County Transportation Council Executive Director, says a three year grant totaling around $45,000 in "Low Carbon Operations" program funding is allowing for the creation of this new service. He notes, "We recognize the need to help in the Pinecrest basin with some of the congestion up there during the summer, so we've put together a service that offers people an alternative to driving their car up there and fighting for parking around the lake."
The state's cap and trade program, first initiated with the passage of AB 32 in 2006, receives revenue by requiring heavier polluting companies to purchase carbon offset credits. The revenue is then doled out for efforts and projects that reduce vehicle traffic on California roads.
Grossi adds that there will be free service to Pinecrest over the next two weekends, June 9-10 and June 16-17, to celebrate the Sierra High Country and Father's Day. On other weekends there will be a $10-per-day round trip cost for adults. There is a discounted $5 rate available for children, students, Veterans and seniors.
The service will continue to operate during all weekends, and special holidays, through Labor Day. The bus starts in Jamestown at 8am and makes about 10 stops before arriving in Pinecrest at 9:30am. There will then be various nearby camps and sites that will have shuttle service throughout the day, until the bus departs back toward Sonora and Jamestown at 4pm.
You can find more information about the route by clicking here.