Rafters And Kayakers Advised To Take Note Of Pulse Flows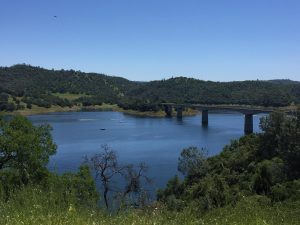 New Melones Reservoir

View Photos
Sonora, CA — The amount of water released along the Stanislaus River as part of the spring pulse flows will be fluctuating over the coming weeks.
The federal Bureau of Reclamation, in tandem with Oakdale and South San Joaquin irrigation districts, increased flows in mid-May to 3,000 cubic feet per second. The agencies say the pulse flows are intended to help juvenile salmon begin the journey down the river, through the Delta, and eventually to the Pacific Ocean. Today the pulse flows are about 2,000 cubic feet per second. Beginning Friday, it will gradually drop down to around 500 cubic feet per second.
Then between June 5-7, there will be final sequence of increased flows, boosting it back up to 1,600 cubic feet per second to encourage any remaining juvenile salmon to move downstream. It will then gradually decline to 300 cubic feet per second by the end of June and remain there throughout the summer months.
The pulse flows can cause rapid water flow conditions along the Stanislaus River, so kayakers and rafters are encouraged to take note and use extra caution.  If you plan to recreate near the river, you are encouraged to wear a life jacket.