Man Arrested After Rock Assault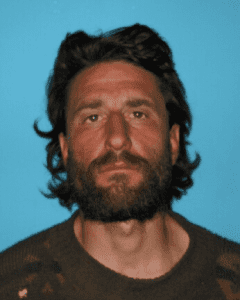 Davin Huhtala SPD Booking Photo

View Photos
Sonora, CA – An early morning 911 call by a terrified victim, triggered by a man who allegedly attacked her with a rock, resulted in the arrest of a transient known to local police.
According to Sonora Police spokesperson Sgt. Curtis Hankins, the female victim called dispatch Monday around 6:30 a.m. to report that a male she knew from prior contact had thrown a rock into her car, damaging it. Then, picking the rock back up, he came charging at her with it. "She was able to get back into her apartment before she thought he was going to throw it at her, and since she was in fear for her life she called 911," Hankins recounts.
Hankins adds that it was through a photo lineup that the victim was able to point out her attacker to police. He was identified as Devin Glenn Huhtala, a 42-year-old local transient yard worker with a prior arrest record. Officers spotted him on Mono Way later that day and arrested him. Booked into the Tuolumne County Jail for felony vandalism and assault with a deadly weapon he was also placed on a felony parole violation hold.
As far as arrests over the Memorial Day holiday, Hankins comments, "Overall…it was good to see a lot of visitors in town but it was very quiet with regard to calls for service."