Tuolumne County CAL Fire Unit Assistant Fire Chief Exiting Post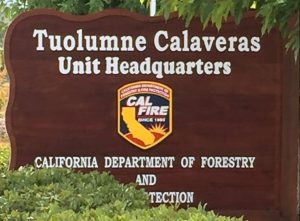 Cal Fire Tuolumne Calaveras Unit HQ sign

View Photos
Sonora, CA – With the busy fire season approaching, CAL Fire Tuolumne-Calaveras Unit Assistant Chief and Tuolumne County Fire Warden is leaving for a post in a neighboring county.
Clarke Broadcasting has learned that Paul Avila has accepted another Division Chief administrative officer position in the Medera/Mariposa CAL Fire Unit beginning June 1st. But that will not leave the county vulnerable, shares Unit Chief Josh White who has planned for a backup. "We've actually brought back retired Sonora area Battalion Chief Barry Rudolph, who was in that position for 14 or 15 years, to act as kind of a bridge for when Paul leaves until we have somebody back in the seat. So, Barry will be helping me with some of the administrative duties, making sure that the county administration is successful and everything is fluid throughout that time until we get a successor." He also notes that Avila will be "just a phone call away."
The Assistant Chief job entails administrative duties, working with the county and other fire agencies while also overseeing the "Schedule A Program," which is the operations of the county's fire department including training of paid and volunteer staff.  Candidates vying for the position have already been placed on an internal "Promotional Eligibility List" after statewide testing to qualify for the promotion. This process has raised reservations from some area fire agency employees who are concerned that qualified local candidates are being left out of the running and leaves county officials without a say. Chief White counters, "Just like when I interviewed for the Chief position, Tuolumne County Administrator Craig Pedro was part of the interview board. In this case, there is going to be a representative from the county on the board as well." He also points out that a benefit of working with CAL Fire is that it takes care of all the complicated administrative responsibilities for counties.
The plan is to have the final applications by next week, according to Chief White, who anticipates that interviews will follow sometime in the middle of June with the position being filled by July 1st.