Burglary Attempt Thwarted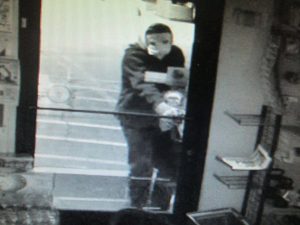 Burglar breaking into Cold Springs Market

View Photos
Cold Springs, CA – A late night break-in Wednesday at a Tuolumne County market spooked the thieves who can be seen on security footage running off when an alarm started blaring.
When sheriff's deputies arrived at the Cold Springs Market on Hwy 108 in Cold Springs they discovered the store's front glass door shattered. A check of the store's surveillance video showed two men, clothed in all black and wearing face masks, using a crowbar to smash the door. With the alarm sounding, the two suspects took off and one dropped his loot bag, a pillow case, on the ground, according to sheriff's officials. In the parking lot deputies discovered tire tracks, showing signs of where the getaway car spun out while fleeing the scene.
Pictures of the thieves can be viewed in the image box. If anyone recognizes the men or has any information regarding the attempted burglary please call the sheriff's office at 209-533-5815.