Update: Power Restored To Nearly 100 In Tuolumne County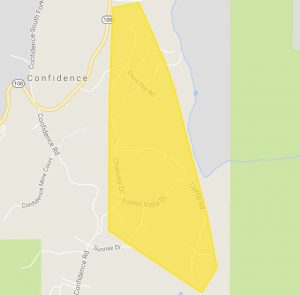 Power outage in Confidence area

View Photos
Update at 1 p.m.: The power has been restored to all 93 PG&E customers in the Confidence area of Tuolumne County. The utility did not post a cause.
Update at 12:15: PG&E has pushed back the restoration time to 2:30 p.m. Crews are working on repairs but no cause has been posted. Further details on the outage can be viewed below.
Update at 9:30 a.m.: The electricity has been restored to 2,455 PG&E customers in the Arnold area of Calaveras County. Crews reported downed power lines and a burned transformer in the 1150 block of Dunbar Road.
The company is reporting a new outage in the Confidence area of Tuolumne County. The lights went out around 9:45  a.m. Those impacted are 93 customers off Highway 108 along Davis Flat and Coffill roads. A crew is heading to the scene and the utility has posted a restoration time of noon.
Original post at 7:30 a.m.: Arnold, CA — PG&E is reporting a power outage in the Arnold area this morning.
The lights went out for several thousand customers around 7:15 a.m. The areas impacted are along Highway 4 stretching from the Lakemont Pines to Blue Lake Springs and the Mumbert Acres subdivisions. The number of customers without lights total 2455.
No cause has been provided as the company indicates a crew has been assigned to assess the situation. The posted estimated restoration time is 11:15 a.m.