Update: Moccasin Dam's Weekend Flash Flood Watch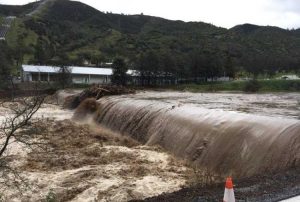 Moccisan Creek Dam 3/22/18

View Photos
The National Weather Service has issued a Flash Flood Watch for Moccasin Dam and downstream areas in south central Tuolumne County through Monday morning.
This does not include the town of Moccasin.
Local authorities have reported that water levels have decreased at the Moccasin Dam and it is no longer in imminent danger of failing.
However, a risk of potential failure still exists.
The dam owner will continue to closely monitor the situation over the weekend.
Portions of Highway 49 remain closed.
This Flash Flood Watch replaces the previous Flash Flood Warning.
Additionally, a cold system with lower snow levels and heavy snow will drop south over the region into the weekend.
A Winter Storm Warning is now in effect for the Sierra Nevada until 9 AM Sunday.
Total snow accumulations of one to two feet are expected above the 3,000 foot elevation.
Be prepared for significant reductions in visibility at times due to heavy snow and gusty winds.
A Winter Storm Warning for snow means there will be snow covered roads and limited visibilities. Travel is not recommended while the wWrning is in effect. If you must travel, keep an extra flashlight, food and water in your vehicle in case of an emergency.
A Flash Flood Watch associated with a dam means there is an issue or significant problem at the dam, that the dam owner is addressing. If conditions were to deteriorate into a failure it could lead to flash flooding downstream of the dam. If the dam were to fail, The National Weather Service would upgrade this Watch to a Flash Flood Warning.