Will There Be A "March Miracle" For Our Snow Pack?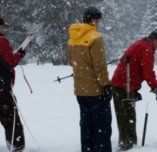 Snow pack reading at Phillip Station

View Photos
With rain soaking the Mother Lode and snow pounding the Sierra Nevada this morning, are we seeing the beginning of a "March Miracle" for our local snow pack?
KCRA 3 Meteorologist Tamara Berg was Thursday's KVML "Newsmaker of the Day".
Berg said, "Over the next few days, around three to five feet of snow is likely at the highest elevations of the Sierra Nevada. The Climate Prediction Center indicates that we could see more of these storms rev up again in the middle of next week and points beyond. In fact, they put us at above average precipitation in terms of rain and snow for the entire month of March. That is what is known as a 50/50 split. There is a 50% chance that it could happen and a 50% chance that the prediction is wrong. We could end with either a great March or a not-so-great March."
Berg said, "A short range forecast is what we do best. We can study atmospheric conditions over the Pacific Ocean and identify a long term El Nino or El Nina event and showcase what that traditionally means for the next few months, but it is a showcase of tradition and not a specific forecast."
The Mother Lode offers specific challenges when trying to forecast the weather, according to Berg.
"Both Tuolumne and Calaveras counties run from the east end of the Northern San Joaquin Valley, up to the crest of the Sierra Nevada. Based on topogrophy, elevation changes, canyons, terrain, climate and incoming storm systems, the Mother lode creates good challenges for our weather team," said Berg. "We study, converse, apply math, apply science, sometimes disagree with one another and ultimately try to be as accurate as possible."
Berg continued, "The Mother Lode is, what we call, micro-climate central. At times, there can be very small areas where the weather can change in a heartbeat. In one area there can be low snow, while in other areas it's simply raining. We see this with cloud cover as well. It could be sunny in one place but just a few miles away, an area is locked in low clouds."
Berg joined the KCRA 3 weather team in December of 2011. Berg is also a member of the American Meteorological Society and National Weather Association. Berg is also heard weekday mornings on AM 1450 and FM 102.7 KVML, Star 92.7 FM and Today's Country 93.5 FM KKBN.
The "Newsmaker of the Day" is heard every weekday morning at 6:45, 7:45 and 8:45 on AM 1450 and FM 102.7 KVML.