Driver Sought In Truck Vs. Motorcycle Crash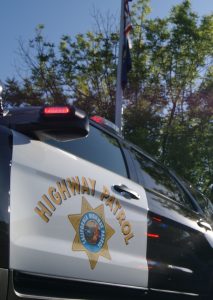 CHP patrol car

View Photos
Jamestown, CA – A motorcycle rider was seriously injured after a crash on Highway 108 Thursday evening and now the CHP is seeking the public's help to identify hit and run driver.
The wreck happened at 5:30 p.m. along the highway east of O'Byrnes Ferry Road. The CHP reports that a truck was heading westbound when its unidentified male driver pulled off the shoulder. He proceeded to make a U-turn right in front of a 2002 Harley Davidson driven by 56-year-old Michael B. Wood of Modesto right behind the pickup. Woods slammed on his brakes but could not stop and smashed into the driver's side of the truck, which drove off. Woods was flown from the scene suffering major injuries. Investigators are not ruling out whether drugs or alcohol played a role in the collision.
The CHP gives this description of the truck. It is a1990's faded white American make pickup (Chevrolet, Ford or Dodge) single cab with a black metal lumber rack with chains on it. On the driver side door there is a green rectangular company logo with block lettering. There will be noticeable damage on that side from about the door to the rear wheel.
Anyone who may have witnessed the collision or have information regarding the vehicle is asked to call the Sonora Unit of the CHP at (209)984-3944.