Sonora Thrift Store Vandalized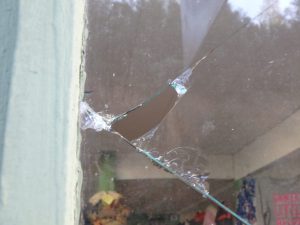 Broken window at the Community Thrift Shop

View Photos
Sonora, CA — A man is arrested after he punched his fist through a thrift store's window in Sonora.
Sonora police officers responded to the Community Thrift Shop located at 797 West Stockton Street just before 3:30 p.m. Wednesday. Employees identified the suspect as Carlos Rene Canez, 28, of Sonora — a name officers also recognized.
Moments later, Canez was spotted walking along the roadway a short distance from the store. Acting Chief Turu VanderWiel describes the vandalism, "There is no report of him yelling anything. He was walking by and stopped at the glass, struck it with his fist and kept going."
Pictures in the image box show a large hole along with a long crack in the broken window. The value of the window is estimated to be over $900.00, according to police.
Canez was taken into custody for felony vandalism. He was taken to the Tuolumne County Jail where he remains on $10,000 bail.