California Looking To Tighten Utility Regulations In Fire Areas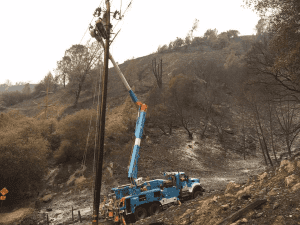 Restoring Power In Butte Fire region

View Photos
Sacramento, CA — California's Public Utilities Commission will vote on placing stricter rules and regulations on companies that that place power lines and utility poles in regions most prone to wildfires.
The Associated Press reports that under the proposed new rules tree branches would need to be kept farther away from power lines, new lines would have to be spaced wider apart, and repairs in high risk fire zones would have to be completed before low risk zones. In addition, repairs would have to be completed within six months in extreme fire risk zones.
The state's larger utility companies have been working with the California Public Utilities Commission in regards to the development of the proposed new rules.