Arrest After Taser Incident In Sonora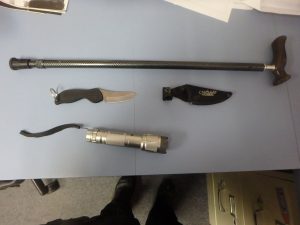 Items Confiscated During Arrest

View Photos
Sonora, CA — A Sonora man was arrested over the weekend following a fight in the Crossroads Shopping Center.
The  Sonora Police Department reports the man, identified as Edward Greenberg, allegedly attempted to hit a man with his cane, and deployed a taser on the victim.  Greenberg was arrested for assault with a deadly weapon and assault with a taser device. He was booked into county jail where his bail was set at $40,000. It happened Saturday afternoon at around 3pm in front of the Papa Murphy's.
Several witnesses were interviewed and they corroborated the victim's claims, according the PD. The fight reportedly started because of "words being said," but no further details were released by authorities. Greenberg denied the accusations that he assaulted the victim.
The victim stated he was tased one time, on his side, causing reddening of the skin. When Greenberg was taken into custody the officers also confiscated a concealed fixed blade knife found in his jacket pocket.