Second Weekend Of December Events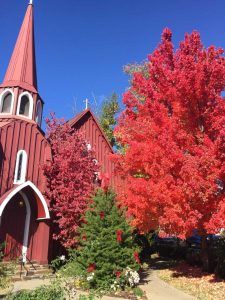 Sonora's Historic Red Church

View Photos
The second weekend of December is coming up and many Christmas events are planned throughout the region.
The Tuolumne Park and Recreation District will host a two day Christmas Craft Fair and the Tuolumne Christmas Parade is at 6pm tomorrow. Details are here.
Summerville Parent Nursery School is hosting their Annual Christmas shop this Friday and Saturday.
Sierra Repertory Theatre will perform Another Night Before Christmas at the East Sonora Theatre and at the Fallon House in Columbia they continue with Irving Berlin's White Christmas. Murphys Creek Theater is performing Looking Over the President's Shoulder and the Mountain Melody Women's Chorus will perform at the Union Congregational Church in Angels Camp.
Calaveras Performing Arts Center in San Andreas is presenting "Christmas Cabaret"a collaboration between the G.N.A.T. P.A.C. (Geeks, Nerds, Artists and Thespians of the Performing Arts Center) and the Artists Formerly Known As CHS Choir. After the removal of choir class from our offered curriculum last year, the Choir class officers voted to donate the remaining funds in their class account to the Calaveras Performing Arts Center. More details about the event are here.
The Polar Express continues at Railtown 1897, details are here.
A list of all the Saturday events are in our community event calendar here. Events include Breakfast with Santa in Jamestown, the annual Santa's Gone Hawaiian event as reported here, a children's holiday party at the Ebbits Pass Moose Lodge, free holiday gift wrapping for senior citizens from 10AM -2PM at the IOOF Lodge in Sonora, details here.
At Courthouse Park a nonpartisan rally is inviting the community to stand in support of Net Neutrality. Details are here. It is also the 2nd Saturday art night in Sonora and at 5 p.m. at the historic Red Church there will be a tree lighting and remembrance service. Each gift given through Tree of Lights enables Adventist Health Hospice to continue to reach patients when and where they need it most by providing compassionate end-of-life hospice care, details are here. The schedule of Santa's appearances in Downtown Sonora is here.
Saturday and Sunday this weekend and next weekend Columbia will celebrate A Miner's Christmas. Also in Columbia, meet Santa and Mrs. Claus at Grandma's House.  Sunday in Columbia is the 34th annual Las Posadas Nativity Procession, a Spanish tradition that re-enacts the biblical story of Mary and Joseph's search for shelter on the original Christmas Eve. Since 1983 the people of Columbia have put on their own version of Las Posadas each December — with a distinctive 1850s flavor. Details are here.
Next Week: Click on a date for more events coming up

S
M
T
W
T
F
S
11
10
11
12
13
14
15