A Mound Of Meth Discovered After Traffic Stop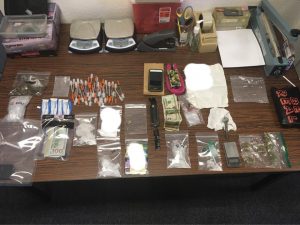 Drug bust following CHP stop on Highway 108 Jamestown Dec 1 2017

View Photos
Jamestown, CA – Eyeing a car with an expired registration tag, a CHP officer pulled it over and uncovered a huge stash of methamphetamine on two occupants.
The traffic stop took place on HWY 108 near Montezuma Road in Jamestown recently.  Inside the vehicle was the driver, 53-year-old Edward Ryno of Modesto and passengers; 50-year-old Lisle Edwards of Oakdale and 26-year-old Savannah Serpa also from Modesto. The officer also turned up over 66 grams of meth, which prompted him to call for the Tuolumne Narcotics Team to assist.
Ryno was found with 46.9 grams of meth on him while Edwards had 19.6. Both also had digital scales, sales ledgers, hypodermic needles and plastic bags. In addition, Ryno also had $875 cash, 4 suboxone strips, numerous hypodermic needles, and live ammunition. Edwards also possessed $159 cash, a smoking pipe, stun gun, and pepper spray.
Both were arrested on numerous drug charges including trafficking and sales. Ryno had two felony Stanislaus County warrants related to drug charges as well. Edwards also faces charges of being a prohibited person in possession of a stun gun and pepper spray.
Serpa was taken into custody for having drug use paraphernalia.