Large Meth And Pot Bust In Jamestown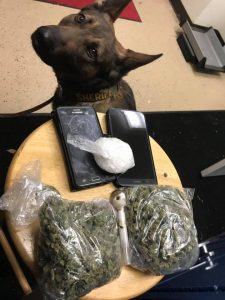 K9 Maverick with traffic stop drug bust stash Dec 3 2017

View Photos
Jamestown, CA – Sighting a group of people hanging around an SUV at a Jamestown gas station with one person suspiciously underneath the vehicle, a Tuolumne County Sheriff's Deputy stopped to investigate.
The Dodge Durango SUV was parked at Sierra Energy Gas Station on Highway 108 early Sunday morning. The deputy noted that the vehicle's registration was expired and detected a strong odor of marijuana coming from inside. K9 Maverick's nose went to work and alerted to the presence of narcotics while circling around the SUV.  A search uncovered 57.31 grams of methamphetamine and 127.97 grams of marijuana. Tuolumne Narcotics Team Detectives were called in to investigate further resulting in the arrest of 35-year-old Lynette Adams of Copperopolis.
Sheriff's spokesperson Sgt. Andrea Benson indicates that the individuals near the truck were Adams' family members including a sixteen year old. Adams faces drug charges related to the transportation and sale of meth.