Update: Manhunt For Armed Groveland Bank Robber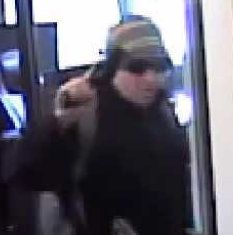 Yosemite Bank in Groveland armed robbery suspect

View Photos
Update at 4:30 p.m.: The search continues for a suspect that robbed the Yosemite Bank in Groveland at gun point just before 3 p.m. Tuolumne County Sheriff's spokesperson Sgt. Andrea Benson reports that a H40 helicopter from Fresno is assisting in the manhunt.  She tells Clarke Broadcasting that she has no information on how much money the suspect got away with or whether the FBI has been contacted. A picture of the suspect is in the image box and a detailed description is below. Anyone who may recognize the suspect or may have seen him in the search area should contact 9-1-1 or dispatch at 209-533-5815. Sgt. Benson states, "Do not approach the suspect as he could still be armed and is considered dangerous."
Update at 4:05 p.m.: Tuolumne County Sheriff's officials ask that the public check out the photo in the image box and if anyone recognizes the man that they call dispatch as 209-533-5815. Currently, deputies along with K9 units are combing Deer Flat Road in Groveland area for a male suspect that used a hand gun to rob the Yosemite Bank just before 3 p.m. One area of interest is an old mine shaft on that road. Sgt. Andrea Benson gave Clarke Broadcasting an update on what the suspect, a young white male, was wearing noting he has on a black beanie with a green neon stripe, khaki pants with low pockets and a silver low hanging backpack. (Further details on the armed robbery can be viewed below.)
Update at 3:45 p.m.: A suspect is still being sought in the armed robbery of the Yosemite Bank in Groveland that happened around 3:45 p.m. Tuolumne County Sheriff's spokesperson Sgt. Andrea Benson tells Clarke Broadcasting that there were five employees and one customer in the bank when a man carrying a hand gun demanded money from a teller and fled on foot.  She adds that all are safe. View the description of the suspect below.
Original post at 3:20 p.m.:  Groveland, CA – A search is on for the suspect that robbed a Groveland bank just before 3 p.m. this afternoon.
After an inquiry by Clarke Broadcasting, Tuolumne County Sheriff's spokesperson Sgt. Andrea Benson confirmed that deputies are on the scene of an armed robbery at Yosemite Bank on Main Street. She indicates that at 2:40 p.m. a man walked into the bank wielding a small handgun and demanded money from a teller. Sgt. Benson notes that deputies arrived on the scene four minutes later but the suspect had fled heading towards Deer Flat Road.
Sheriff's officials described the suspect as a white man wearing a black parka type jacket, light colored pants, a beanie hat and dark sunglasses.
The public is asked to "keep an eye out" for anyone in the area matching that description. If the suspect is spotted do not approach him instead call the sheriff's Office at 209-533-5815.