Tuolumne Supes, Officials Back 2018 Fair Exhibition Plans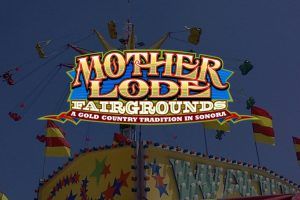 Mother Lode Fairgrounds

View Photos
Sonora, CA – Plans to highlight what makes Tuolumne County and each of its towns special in a series of new exhibitions at next year's Mother Lode Fair met with enthusiastic support by county officials and others.
Among the appointments set for today's Tuolumne County Board of Supervisors meeting was an 11:30 a.m. slot in to discuss the topic in a strictly informational setting. County Administrative Officer Craig Pedro noted in the meeting documents that he previously pledged the county's support in providing assistance with historical and contact information.
Fair Board President Missy Marino was on hand to discuss the board's plans to dedicate space in the John Muir Building at the fairgrounds for an exhibition reflecting an "It's All About Tuolumne County" theme. Planned are to host unmanned exhibit booths created by various groups that represent the history, present day and future plans of Tuolumne County as a community as well as that of its towns and major industries, including the railroads, lumber, ranching, and farm industries.
Board Chair and District 1 Supervisor Sherri Brennan, District 2 Supervisor Randy Hanvelt and District 4 Supervisor John Gray were among the most vocal supporters of the idea. Half-joking, Hanvelt indicated at the end of the presentation that he had already texted the Tuolumne County Visitors Bureau about it.
Stepping up to make a public comment, Tuolumne County Chamber of Commerce Executive Director Amelia Harrison chirped up that the chamber was on board. "I would love to see the Visitors Bureau and the Tuolumne County Chamber of Commerce work together with a booth…and then be able to have all the chambers be able to represent their areas and get theirs out there as well."
Gray, tossing off a few top of head suggestions of groups to contact in Groveland and other communities within his district, offered to help grease the skids during some community meetings.