Burglar Taps Beer While Owner Watches On Surveillance Camera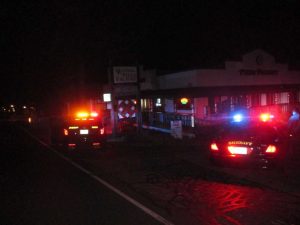 Burglary arrested at Pizza Factory in Groveland

View Photos
Groveland, CA – A burglar bellied up to the bar at the Pizza Factory on Highway 120 in Groveland and even answered the phone when the owner called to confront him.
Dispatch got a call from the owner of the business on Monday just before 11p.m. reporting that the restaurant's alarm had gone off. He detailed that via a remote surveillance camera he was watching a man leaning against the cash register inside the business.  The owner went on to say that he had even placed a call to the burglar, who answered but sounded quite drunk.
Tuolumne County Sheriff's spokesperson Sgt. Andrea Benson reports that once on scene, "Deputies discovered a man in a black hoodie sitting at a booth.  He stood up, approached the deputies, and was quickly cuffed.
He is 20-year-old Bradley Trevino of Groveland. He was very intoxicated and smelled strongly of alcohol."
With the assistance of K-9 Maverick a sweep of the building was done but no other individuals were located.  Further investigations revealed a broken vase and evidence that Trevino had been helping himself to the beer on tap.
Trevino faces charges of burglary and public intoxication. Sgt. Benson notes he had a "whopping" blood alcohol level of .27. Trevino's bail is set at $15,000.