Online Giant Amazon Delivers Huge Holiday Gift To ATCAA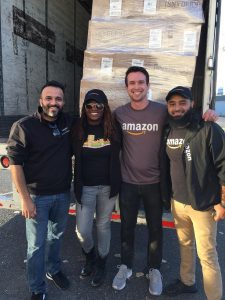 Amazon team visits ATCAA warehouse in Jamestown to offload surprise $76,000 in donated goods from the online giant, Dec. 1, 2017

View Photos
Sonora, CA — A stuffed semi-truck from a Bay Area Amazon fulfillment center came bearing surprise holiday gifts — and delivered its $76,000 load at a local community action agency.
At the height of another record-breaking online shopping holiday season, a team from Amazon's Newark, Calif. center made time to make the unsolicited delivery to the Amador-Tuolumne Community Action Agency's (ATCAA) Jamestown food bank warehouse on Friday.
According to ATCAA Executive Director Raj Rambob, his office received notice — that day — that the stuffed semi was on its way to the Mother Lode, bearing an undisclosed amount of goods to help ATCAA fulfill its service mission over the holidays; that is helping people toward self-sufficiency and becoming contributing community members; also, through partnerships, helping all residents reach their maximum potential. He explains that the donation came out of an unrelated conversation between the ATCAA accounts payable department and Amazon staff.
Blown away by the gestures, Rambob shares that the unexpected gift will surely be a great benefit to the community. He enthuses, "We are grateful and happy that the foothill region was recognized by such an industry giant as Amazon."
Through its auspices ATCAA, one of about a thousand community action agencies across the country, is in its 36th year of delivering a wide range of programs based on community needs and available funding. Programs and services are provided in both counties and also in the neighboring counties of Calaveras, Alpine and Mariposa.
Under its umbrella low-income residents get help with food, emergency shelter, weatherization and lowering energy costs. Among its other services are early childhood education through Head Start; youth and senior support; suicide prevention.
ATCAA Food Bank Director Deni Avery notes that while she is now faced with the huge job of sorting and storing the truckload of items before ATCCA's Holiday Food Basket distribution. "It's a great dilemma to have," Rambob remarks, adding that in the coming days ATCAA will be busily inventorying and developing a distribution plan for all the goods. Anyone interested in volunteering for this project or others that are pending is encouraged to call ATCAA in Sonora at 209 533-1397 or in Jackson at 209 223-1485.