Interfaith Cash Drive This Morning Through Noon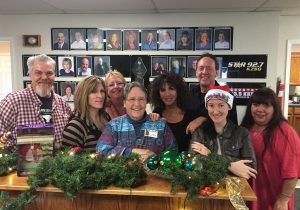 Cathie Peacock, surrounded by Big Joe Marshall, Bridgette Fannuchi, Sally Van Bolt, Maryann Curmi, Mark Grauer, Sabrina Biehl and DJ Riendeau

View Photos
Clarke Broadcasting is conducting its Cash Drive this morning through noon in partnership with Interfaith Social Services.
Interfaith Director Cathie Peacock was Friday's KVML "Newsmaker of the Day".
Cash donations to Interfaith are encouraged in order to purchase much needed items.
The Cash Drive for Interfaith Social Services has received a pledge from Tribal Chairman Lloyd Mathiesen that Chicken Ranch Rancheria will match all donations collected this morning.
Peacock says there is an overwhelming need for cash and coats this year. During a typical month, over 800 families come into the Interfaith office just to receive food.
Tune into Star 92.7 and Today's Country 93.5 KKBN this morning from 6 AM through noon to listen to the latest updates and help with any donations.
One hundred percent of all donations go to Interfaith Social Services to help Tuolumne County families in need. Cash donations are tax deductible.
Call (209) 533-1450 to donate. For information about donating via paypal, click here.
During the first several years of this event, the cash and coat donations have helped Interfaith meet local needs for many months.
Tomorrow (Saturday), residents and businesses can drop off new and gently used coats at Standard Park from 9 AM – Noon.
Santa Claus will arrive at 11 AM by helicopter courtesy of PHI Air Medical. Bring a camera as this is also a chance for kids to get a picture with Santa.
The "Newsmaker of the Day" is heard each weekday morning at 6;45, 7;45 and 8:45 on AM 1450 and FM 102.7 KVML.