Twain Harte Seeking Ideas For New Park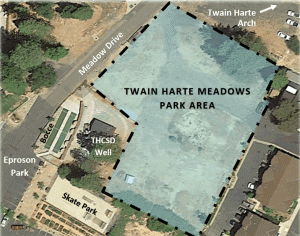 Twain Harte Meadows Park Area

View Photos
Twain Harte, CA — Thanks to a donation of property from a community resident, the Twain Harte Community Services District is planning to construct a new park.
In 2016 the district sold a one acre parcel of land that was owned by its water and sewer divisions in order to raise revenue for facility construction. To the district's surprise, the buyer, Julie Cowell, donated it to the district's park division. She and her late husband, Robert Cowell, had dreamed for years of creating a beautiful park that would draw the Twain Harte community together for generations.
As you can see in the image, the property is located near Meadow Drive and is in the vicinity of Eproson Park. The district is seeking input from the public on what would be desirable at the site. The hope is to honor the desires of the past landowner, promote meaningful community involvement, maintain aesthetic consistency with the existing park, develop facilities that can be maintained efficiently, etc.
For more information, click here.