Update: Tioga, Ebbetts Passes Now Closed For The Winter Season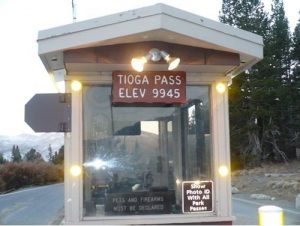 Tioga Pass Entrance

View Photos
Update at 4:15 p.m.: It's official. All three Mother Lode mountain passes have secured their closure gates for the season.
Caltrans District 10 spokesperson Warren Alford says the decision was made minutes ago to close Highway 4 Ebbetts Pass for the winter, citing that conditions remain hazardous as the winter holidays — and well ahead of them more inclement weather — are pending.
Original Post: 3:59 p.m.: Yosemite National Park, CA — It looks now like at least two of the three Mother Lode mountain passes will not be opening again until spring returns to the region.
Today, Yosemite National Park officials announced that Tioga and Glacier Point roads, which are under the park's management auspices, have closed for the season due to hazardous driving conditions caused by recent winter storm activity throughout Yosemite, which has resulted in snow accumulation above the 6,000-foot elevation.
Glacier Point and Tioga roads generally close each fall when snow and ice create potentially dangerous conditions for motorists. Yosemite National Park remains open year-round with snow removal on all other roads within the park, which when hazardous driving conditions develop, are subject to chain controls or temporary closures. Currently — and throughout the winter months — all motorists traveling within the park are required to carry tire chains, even if their vehicle is equipped with four-wheel drive.
As reported here, Caltrans officials decided just over a week ago to close Highway 108 Sonora Pass for the winter. While Highway 4 Ebbetts Pass is currently closed, the decision has not yet been made as to whether or not it might still re-open before its seasonal shuttering.