The Death Toll Rises In California Wildfires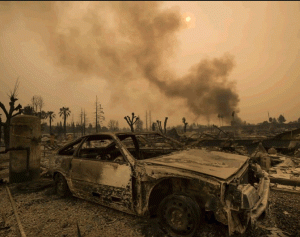 Fire Destruction In Sonoma County

View Photos
Santa Rosa, CA — Another person has died as a result of burns he suffered from the wildfires that ripped through Northern California this summer bringing the death toll to 44.
41-year-old Michel Azarian died Sunday at UC Davis Medical Center in Sacramento where he was being treated for extensive burns over half of his body as reported by San Francisco radio station KQED. A friend of the fire victim indicated that Azarian had tried to take shelter in a small clearing near his home when the flames swept through his Santa Rosa neighborhood. That's where he was discovered the next day, with severe burns, according to the friend, who shared that Azarian had moved to the area two years ago to take an engineering job.
Nearly 8,900 buildings were destroyed by the series of blazes that started the night of Oct. 8th. The exact cause of the fires remains under investigation, according to CAL Fire.