Two Disturbing Holiday Arrests Reported By Angels Camp Police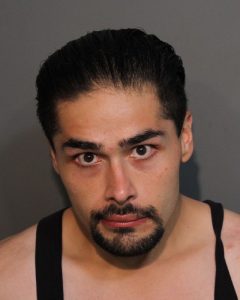 John Corral AC Police Booking Photo

View Photos
Angels Camp, CA – Angels Camp police today are sharing details of two disturbing arrests made around the Thanksgiving holiday, one involving the discovery of human remains.
Last Wednesday night — just before midnight — an officer making a vehicle code violation traffic stop for failing to stop at a stop sign limit line recalled he had recognized the front seat passenger as a man who had earlier been behind the wheel.
Although the subject initially refused to give his name he was subsequently identified as Murphys resident Joshua Davis, 41, who has a suspended driver's license. Prior to towing the vehicle, police – during an inventory search — located what was officially described as a recently unearthed human skull. It was found inside a bag that was in the trunk. Methamphetamine was also recovered from where it had been hidden behind the vehicle's fuel door.
Davis was arrested and booked into the Calaveras County Jail for disturbing or removing human remains along with violation of probation; driving on a suspended license; possession of methamphetamine. Police say he invoked his Miranda rights and refused to explain how he came to be in possession of the human skull. Angels Camp police officers are conducting a follow-up investigation to attempt to positively identify the remains and where they came from. In the meantime, the remains are being held by the Calaveras County Coroner's Office.
Late Thanksgiving night Angels Camp police report being dispatched to the 400 block of South Main Street due to a report of a man sitting and masturbating there. Police say the property manager stated that at least one person complained about the subject's actions and requested that police investigate.
Upon the responding officer's arrival, the subject, later identified as John Corral, 30, of Angels Camp, was still on the property. This allowed the officer to evaluate him for being under the influence of a central nervous system stimulant.
Corral was subsequently placed under arrest for being under the influence of a controlled substance. While being booked into the jail, staff located a substance suspected to be meth in one of his shoes. He now faces charges of being under the influence of and possession of a controlled substance as well as smuggling a controlled substance into a jail.