Thanksgiving, Holiday Weekend Festivities Abound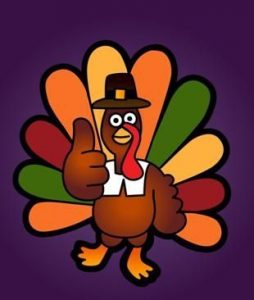 Thanksgiving Turkey

View Photos
Sonora, CA — Event-wise, Mother Lode residents and visitors have a lot to be thankful for, from free, open-to-the-community Thanksgiving feasts to winter holiday kickoff fun.
Here's a rundown of this holiday weekend's highlights…
On Thanksgiving Day, Sonora United Methodist Church on Yaney Avenue is holding its annual Community Thanksgiving Day Dinner from noon until 3 p.m. It will include a vegetarian main dish as well as the traditional turkey and trimmings. Anyone who wishes to bring a dish is encouraged to make it a dessert. In Arnold, a free Community Thanksgiving Dinner is also being served from 1 to 4 p.m. by the Ebbetts Pass Loyal Order of the Moose at the Moose Lodge on Blagen Road.
Ahead of the feasting, Murphys Klassen Klassic Turkey Trot, which begins at 9 a.m. at downtown Murphys Park, will help an estimated 1,000-plus participants free up some calories while at the same time raising funds through T-shirt sales for Murphys Food Bank and the Zach Peterson Memorial Fund. Arrive at 8 and bring nonperishable canned good donations.
Along with the rest of us who are mindfully taking the time during this season of gratitude to count our blessings and appreciate all the good within our community Sonora Area Foundation's Executive Director Darrell Slocum shares his thoughts here.
Friday Festive Fun
Off the bat, consider eliminating any morning-after remorse for the extra servings of stuffing and pumpkin pie at by taking part in the Run or Walk after Turkey Day at Sonora High's Wildcat Ranch from 9 a.m. until noon. Run, stride, walk, trek or stroll with your family (no pets) along the trail at the ranch, located at the corner of Tuolumne and Wards Ferry roads.
Sonora's Historic Downtown Christmas Parade starts at 6 p.m., the centerpiece of a fun evening visiting with Santa and enjoying the festive spirit out and about downtown. Making it easier to park and get about, due to numerous street closures, the Tuolumne County Transit Holly Trolley will be running free shuttles between The Junction Shopping Center and downtown from 3:30 until 5 p.m., and again from 6:30 until 8 p.m.
Friday is also when Bear Valley Mountain Resort holds its Opening Day Winterfest Celebration. Too, there is Christmas in White Pines Parade of Lights Park, which will begin at 7 p.m., leading off with a parade down Blagen Road.
An Old Fashioned Tree Lighting and Holiday Celebration is also slated from 4 to 7 p.m. at  Copperopolis Town Square, which is part of a two-day fun fest highlighting family-friendly activities. Saturday's schedule will run from noon to 7. Among the attractions are arts, crafts and food vendors, live music and photo opportunities with Santa and Mrs. Claus.
Saturday Happenings
Saturday morning, beginning at 9 a.m., Mountain Ranch Community Club hosts the 32nd Annual Christmas in the Country Craft Faire, Bake Sale & Luncheon, which will be staged at the Community Hall and also at Central Calaveras Fire Station.
Those interested in burning more calories are invited to reserve a spot to take part in the Giving Thanks to Nature Hike along Angels Creek Trail in the Glory Hole Recreation Area. Sponsored by the Bureau of Reclamation, the moderate-level, 2.5-mile roundtrip hike will commence from the Glory Hole Entrance Station at 10 a.m. To RSVP, call 209 536-9094, ext. 233
The City of Angels 27th Annual Winter Wonderland Parade of Lights will line up outside St. Patrick's Catholic Church at 3:30 p.m. and then lead off at 5 p.m.  From 4 until 8 p.m. the city's Christmas Open House and Wine Stroll will also be underway.
Too, the Dorrington Christmas Tree Lighting and Visit with Santa will begin at 5 p.m. in the Dorrington Hotel parking lot.
For even more community happenings, including local theatre events, click here and then onto the date you are interested in checking out.