Three Arrested At Local Supermarket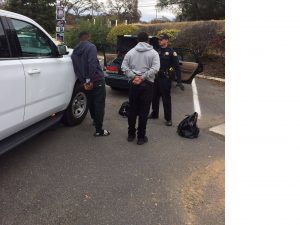 Supsects being arrested at the scene

View Photos
Sonora, CA – Employees of a Sonora grocery store saw two men carrying bags full of groceries right past the checkout lines and out the door.
A call for a theft in progress at the Safeway on Sanguinetti Road went out over the police radio with the description of two African American male suspects leaving the store in a dark colored sedan. It just so happened that the closest patrol car was that of Acting Sonora Police Chief Turu VanderWiel, who spotted the vehicle westbound on Highway 108 and pulled it over.
A supermarket employee was brought to the scene and identified the suspects as 26-year old Antione Parker of Stockton and 24-year-old Delano Sherman of Oakland. A woman, 25-year-old Arlethia Sims of Fresno was also an occupant in the vehicle but the employee could not ID her for the theft. During a search of the car, nearly $1,000 worth of canned baby formula, bottles of alcohol and clothing were discovered that were traced back to the store, according to police.
Officers also discovered pepper spray on Sherman, which he was prohibited to have as he was a parolee. Sherman and Parker were charged with grand theft and conspiracy to commit theft. Parker's bail is $20,000 while Sherman is being held on a no bail parole hold. Sims was taken into custody for an outstanding misdemeanor arrest warrant.