Armed Robber Left Empty-Handed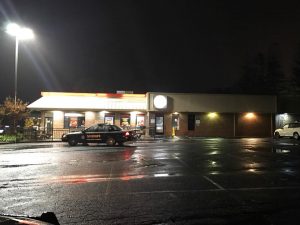 Robbery at East Sonora Burger King

View Photos
East Sonora, CA — A lone man tried to hold up the East Sonora Burger King last night but employees were able to escape and get help.
Just after 9 p.m. Thursday, Tuolumne County Sheriff's Deputies surrounded the eatery after a neighboring business reported an armed robbery was taking place at the restaurant. Employees told the deputies that they were held at gun-point by a man, but were able to sneak out and run next door to call 9-1-1.
With the suspect still believed to be inside the fast food restaurant, deputies stormed the building but the thief was nowhere to be found. Sheriff's officials indicate that the thief left empty-handed as all the locked registers were found intact with the money inside.
Sheriff's officials have put out this description of the suspect. He is a heavy set adult male, between 6' to 6'4" tall. He was wearing a black hooded jacket, blue shirt, black ski mask, and black leather gloves. Anyone with any information regarding this incident is asked to call the Sheriff's office at 209-533-5815.