Post Season An Active One For Mother Lode Student-Athletes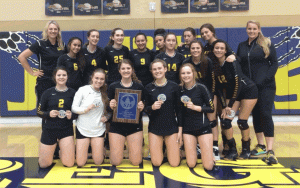 Sonora High Lady Wildcats Volleyball Team 2017

View Photos
Sonora, CA — Away from the gridiron many Mother Lode student-athletes made it to the post-season this fall and as the Thanksgiving weekend holiday approaches more potential success remains possible.
Sonora High Wildcats' Athletic Director Karen Sells says she is still gloating about the season. "It is the third year in a row that every sport that we have in the fall qualified for post season play in some way," she notes proudly. For starters, she points out, "Cross Country had 12 athletes qualify to run in the CIF Sac Joaquin section championships, and from there have one athlete, Cassi Land, who is going to run in the state championship [this] Saturday." Too, Sells says, Girls Golf had two girls, Emma Peller and Morgan St. Pierre, qualify for the divisional tournament.
Lady Wildcats Volleyball Still Playing
Another success story still in the making is the Lady Wildcats Volleyball team's journey this season. Undefeated in the MLL league, they made it through the Division 3 playoffs to the section championship game. While they lost that, they still qualified to play in the Northern California state championship in which they are ranked as the 11th seed and already beat Yosemite High School, the number three seed, in the second NorCal Division 3 round. They travel tomorrow to take on Los Gatos High, which is the number two seed.
Sells says major kudos are also in order Girls Water Polo, which won the VOL league championship and made it to the section championship game in Division 3. From there, they won the section championship and qualified to go onto the Northern California Championships, where they ended the season in the first round. Boys Water Polo also made it to the section championship game in Division 3 where they lost in overtime.
Big Oak Flat-Groveland Glory
This season's Tioga High Lady Timberwolves Volleyball team took third in the Mountain Valley League after making it to the playoffs and taking a first round loss to Sac Waldorf. District Superintendent Dave Urquhart lauds the team, noting that Tioga has not made it to the playoffs in awhile.
Too, Tioga cross county runner Jaydon Spires, a sophomore, made it to the state meet in Fresno. "He took second in his division in the section meet last week…and to have someone go to the state meet, which we have had before, is pretty remarkable for a sophomore," Urquart enthuses.
Notable Bullfrog Boasts
Bret Harte High Athletic Director Jerry Rucker notes that Cross Country Kaela Dishion won the D4 girls section and will also be running at the state meet this Saturday. Dishion and fellow runner Connor Landis also recently signed national letters of intent to continue their athletic careers next year in college. She at St. Mary's College of California in Moraga; he at California State University-Stanislaus in Turlock. Katie Juarez signed with Valley City State University in Valley City, North Dakota where she will be a two-sport athlete in volleyball and track.
Rucker states, "We are very proud of our athletes they worked very hard to get to where they did." He congratulates the Lady Bullfrogs Volleyball Team, which made it to the first round of the Nor Cal Tourney and ended the season as runner-ups in the section D4 final along with Girls Golf athletes Jessie Thompson and Olivia Fonseca, who made it to the Masters Golf Meet.