Chamber Honors Community Leaders At Awards Gala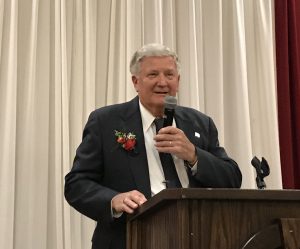 Glenn Gottschall - Citizen of the Year

View Photos
Tuolumne, CA — The Tuolumne County Chamber of Commerce held its annual community awards gala Thursday night at the Black Oak Casino Resort.
Glenn Gottschall won the prestigious Citizen of the Year award. Gottschall spent 40 years with the US Forest Service, retiring in 2004 as the Deputy Forest Supervisor of the Stanislaus National Forest. He and wife Nancy have lived in Sonora for 29 years and they have two children and five grandchildren. Recently Gottschall has been busy serving as a leader and founder of the Tree Mortality Aid Program (TMAP). He has also been active with groups like the Sonora Lions Club, TuCare, the Highway 108 FireSafe Council and the Tuolumne County Forestry Institute for Teachers.
Karen and Pete Luckhardt of Inner Sanctum Cellars in Jamestown took home two awards….Entrepreneurs of the Year and Business of the Year. They noted they are honored by the recognition, and also stated they want to help put Tuolumne County on the wine map in hopes of becoming the next Murphys. They credited their staff and customers as being the key to their success, and noted they have plans to soon expand their operations, eying a property in the Columbia area.
Tuolumne County Economic Development Authority Director Larry Cope won the Excellence in Government award for his accomplishments over the past eight years. He thanked his board of directors, and the vision of Tuolumne County CAO Craig Pedro and former Sonora City Administrator Greg Applegate in creating the entity years ago. It was noted that Cope and wife Kimberly have been married for 24 years.
The non-profit organization of the year is the Foothill Pregnancy Center. The organization has been helping mothers, fathers and babies in the community since 1999. It has many volunteers that meet with clients and help them navigate services for prenatal and parenting education and support.
Karen Seals of Tioga High School is the Teacher of the Year. She moved to the Groveland area several years ago from Oakland and has created a successful culinary arts program and health careers program. Seals is also the Service Club and Associated Student Body advisor.
The students of the year are Charlie Bendix of Summerville, Valeria Sandoval of Don Pedro, Summer Avery of Tioga and Phoenix Farris of Sonora.
Tuolumne County Chamber of Commerce Executive Director Amelia Harrison served as the master of ceremonies.
Also of note, the President's gavel was handed over to Hal Prock of Auto Tech and Tires for the next year, replacing outgoing leader Brandon Russell of 4th DMC. Special thanks was given to outgoing board of directors Lauralee Whitman of Runway Exchange and Kerry Tweedy of Oak Terrace Memory Care. Harrison also noted that former chamber Executive Director Mike Ayala, who is currently serving as the organization's Government Affairs Liaison, will soon be retiring from that role.