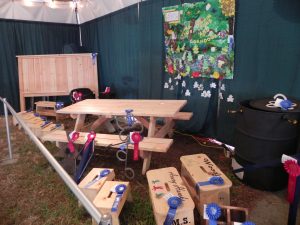 Calaveras-Fair-2015-Crafts-Pavilion-glimpse

View Photos
The rain and some snow have not changed plans for mid-November events including craft fairs and fundraisers.
Crafty Chicks Road Show Vintage Flea & Craft Fair at the Calaveras Fairgrounds in Angels Camp will feature 60+ local artisans will inside the Mark Twain Hall. Handcrafted, vintage, re-purposed items plus food trucks, specialty food vendors and a holiday paper craft class. There is a raffle that will benefit the Mark Twain Elementary Badgers Boosters in their efforts to raise funds to send 6th graders to Science Camp. Admission is $1.00 to support local artisans and shop small businesses for the holiday season gifts.
Summerville High and Connections Visual and Performing Arts Academy will present Rodgers and Hammerstein's musical adaptation of Cinderella fairy tale. Times and ticket information are here. Sierra Repertory's Fallon House Theatre in Columbia is performing White Christmas, Show times are listed here.
It has been National Shoe Box Collection Week at the New Life Bible Church in Sonora and the  Pajama Drive for Grandma's House continues. At Adventist Health Sonora there will be a Child Passenger Car Seat Check-up Event
Saturday the Sonora Cat Rescue Holiday Parisian Fashion Show and luncheon
will be held at the Twain Harte Golf Course. The event features music, fashions, gift and Holiday shopping opportunities, raffles, and door prizes. Also Saturday the Humane Society of Tuolumne County in Jamestown is hosting a Rummage to the Rescue Sale & Fundraiser.
"209 Tells All," Annual Tellabration! Storytelling Celebration
is at the Gold Country Roasters Coffee House in Murphys. The Mother Lode Storytelling Guild participates in the international Tellabration!, a celebration of the Art of Storytelling. The annual event is free to the public with stories for all ages and stages. Donations to support MLSG's Community Outreach Programs are welcomed.
The Sonora Community Contra Dance will be held at the Aronos Club in Sonora. Music and dancing will start at 7:30 and there will be a Potluck at 6:30 for those who come early. Singles, couples and families are welcome to enjoy an evening of traditional music and dancing.
On Sunday at the John Muir building at the Mother Lode fairgrounds in Sonora will be the Sonora Comic Con from 11am-5pm. Kids are welcome and kids 12 and under are free, adults are $6 at the door.