Burn Ban Lifted For Mother Lode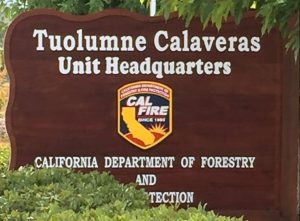 Cal Fire Tuolumne Calaveras Unit HQ sign

View Photos
San Andreas, CA — The public can once again burn debris even though fire season is not officially over and come spring there is a twist in the rules.
Effective at 8 a.m. Thursday, burn restriction will be lifted for the Tuolumne, Calaveras, eastern Stanislaus and eastern San Joaquin counties. CAL Fire Tuolumne-Calaveras Unit Chief Josh White submits that the cooler temperatures, higher humidity and winter weather have helped to diminish the threat of wildfire. He reminds the public that a valid burn permit will be needed until the end of fire season, which will be determined by CAL Fire. White also advises that agriculture burns must be inspected by his unit prior to ignition during the season.
CAL Fire also wants to alert the public to a new elevation based burning system it will implement this spring, which includes Zone 1 (below 3,500') and Zone 2 (above 3,500'). CAL Fire Unit Forester, Adam Frese states, "This is something new that we are doing to allow property owners at the higher elevations due to the cooler temperatures to burn later and have a longer window to burn while minimizing the potential of escaped control debris burns at the lower elevations."
That means that come spring those wanting to burn will not only have to check to see if it is a permissive burn day but whether it is in their zone. To find out that information anytime go to the myMotherlode.com home page and checkout the "Current Conditions" box that has daily updated burn information.