Over 1,500 Pot Plants Discovered In Mokelumne Hill Bust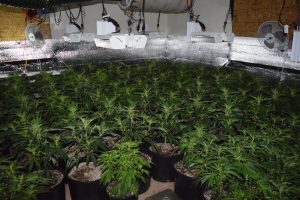 Mokelumne Hill indoor pot grow

View Photos
Mokelumne Hill, CA — A suspect was arrested while returning to the grow at a property where unpermitted electrical work caused breakers to trip.
Calaveras County Sheriff's Deputies served a search warrant on Monday for an illegal indoor marijuana grow on the 8000 block of Highway 49 in Mokelumne Hill. Once inside the residence, deputies found 1,506 marijuana plants, 12.59 pounds of processed marijuana packed in individual plastic bags and a scale. While deputies were still on the site, 30-year-old Rien Zhang of Mokelumne Hill was taken into custody as he tried to return to the property. He faces cultivation of more than six plants. His bail is set at $20,000.
County Code Enforcement officers were called to the scene and uncovered multiple code violations including unpermitted electrical work which caused the breakers on the power pole nearby to trip, according to sheriff's officials, who note that the case is still under investigation.
Anyone with suspicions or knowledge of an illegal marijuana grow are asked to contact the Calaveras County Sheriff's Marijuana Tip Line at (209) 754-6870.