Getting Tourists Back To Wine Country After The Deadly Fires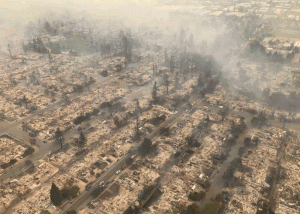 Fire Devastates California's Napa Wine Region

View Photos
Napa, CA – Everything did not burn down in last month's deadly California wildfires according to wineries in Napa and Sonoma counties, who are once again working to bring tourists back to the region.
In fact, the Wine Institute, an advocacy and policy group, reports that the flames had only a minimal overall effect on the wineries indicating that of the 1,200 wineries in Sonoma, Napa and Mendocino; about 10 were destroyed or heavily damaged. The group adds that luckily 90 percent of this year's harvest was already completed and most vineyards were spared due to their high moisture content, while some even helped save surrounding structures by acting as fire breaks.
The problem facing wineries now is other long-term effects of the fires that killed 43 and wiped out 8,900 buildings. Among them: making up for losses from being closed at the busiest time of the year, assessing the impact of smoke and other damage on this year's vintage and persuading tourists to return. The institute notes that the push is on to lure visitors back to the three counties, which together saw more than $3.7 billion in tourism spending in 2016.
"Tourism is the wine country's lifeblood," said president and CEO Caroline Beteta. If the groups hosting fundraisers spread their goodwill across the region, she adds, "I think they will be back and running and be able to host the world as they were before."
Already on the heels of the disaster, a new winery is opening, keeping the name it chose some time ago, which was ironically: Ashes and Diamonds.