Phoenix Lake Restoration In The Spotlight At TUD Public Hearing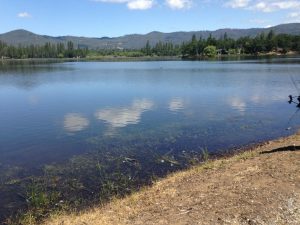 Phoenix Lake

View Photos
Tuolumne, CA – A public hearing regarding next steps for a plan to preserve and restore Phoenix Lake is at the top of Tuesday's regular agenda for the Tuolumne Utilities District (TUD) board.
As reported here, the $6.1 million project, not slated to begin until next spring, involves extensive work over a two-year period. While no impacts to local drinking water supplies are expected, related activities will effectively take the lake out of recreational play for two summers.
TUD's consultants since late 2015, Horizon Water and Environment is responsible for design and permitting tasks related to the project. It conducted numerous environmental studies to meet CEQA requirements, which led to the preparation of a draft Mitigated Negative Declaration. That document was open for public review and comments until Aug. 2 after which Horizon provided a summary of findings, potential impacts and proposed mitigation measures at a public meeting.
Along with input from several members of the public TUD staff received 17 comment letters. Staff's finding is that the identified impacts can be mitigated to a less than significant level through implementing specifically outlined measures and is therefore recommending that the board adopt the supporting CEQA document for the Mitigated Negative Declaration. This, along with securing various resource agency-approved permits are all needed before TUD can bid the project.
In other business the board will also consider a resolution in support of the City of Sonora's community development block grant (CDBG) application for its Focused Water and Sewer Main Replacement Project and to commit matching funds and/or staff resources not to exceed a value of $225,000. Tuesday's meeting starts at 2 p.m. in the TUD meeting room (18885 Nugget Blvd.).