Sonora Woman Arrested For Threats To Terrorize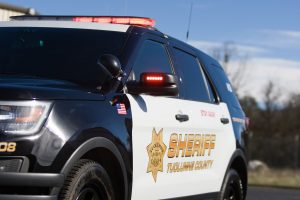 Tuolumne County Sheriff's Office Vehicle

View Photos
Sonora, CA — A victim tells deputies she was afraid for her life after the two women got in to a verbal argument at a Sonora apartment complex that was so loud it brought neighbors out of their homes.
32-year-old Richelle Marie Diaz was arrested by Tuolumne County Sheriff's deputies after witnesses and the victim described what they saw and heard at the Sonora Garden Apartments. The fight broke out at the victim's residence, which was known to Diaz as the two women used to be family through marriage, according to Sgt. Andrea Benson. During the argument Diaz made several threats to cause harm to the victim. Sgt. Benson clarifies, "She [Diaz] also threatened to return to the victim's home and kill her. The victim was in fear for her safety as Diaz has physically attacked her in the past."
Diaz's bail is set at $25,000.