Next Week's 96th Annual Community Awards Gala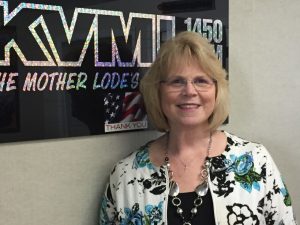 Amelia Harrison

View Photos
The Tuolumne County Chamber of Commerce presents the The 96th Annual Community Awards Gala next Thursday November 16th.
Amelia Harrison, Executive Director for the T.C.C., was Thursday's KVML "Newsmaker of the Day".
The Awards Gala will take place at the Hotel at Black Oak Casino Resort. The social hour begins at 5:30 with dinner served at 6:30 PM.
This popular Chamber event recognizes outstanding individuals, students and businesses that have contributed their time and effort to enhance our community. During this event the Chamber recognizes members of the community that have gone above and beyond throughout the year. Awards are given to a Citizen, Business, Non-Profit, Small Business, Administrative Professional, Government Official, Teacher and to Students. The winners are nominated by members of the community. This event allows the Chamber of Commerce to say "thank you" to the community.
All sponsors are encouraged to make the award presentation to the winner of the category for which they have sponsored.
There are still some tickets available to attend the Gala. The general public and non-members are invited to attend.
Harrison herself has been a member of the Chamber for fourteen years and before becoming Executive Director, served as an Ambassador, Ambassador Chair and the Board President.
"I believe that Tuolumne County is a great community and that our businesses matter," Harrison said. "I really want to continue to have the Chamber and the local businesses work together."
So what is the state of commerce in Tuolumne County?
According to Harrison, "In talking with our chamber members, they are seeing an increase in business. We are seeing both expansions of existing business as well as new business coming to this area. This is a great county to run a business in. We have a lot of networking here and huge support. People are really trying to do positive growth here."
Harrision continued, "The Tuolumne County Chamber of Commerce is here to help educate, work with and assist local business. We want our members to think of their membership as an investment in the present and the future of Tuolumne County. We offer classes, business plans and provide valuable financial and political information."
Early bird ticket prices for the gala are $65 per person. After Friday November 10th at 5 PM, ticket prices will go up to $75. Full tables for businesses or groups are $500.
For tickets and more information about the Commerce, log on to http://tcchamber.com or call 532-4212.
The "Newsmaker of the Day" is heard every weekday morning at 6:45, 7:45 and 8:45 on AM 1450 and FM 102.7 KVML.