Mother Lode Commemorating Veterans Day With Services, Events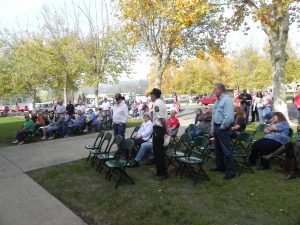 Tuolumne Veterans Day Audience, Vets Stand Up 2014

View Photos
Sonora, CA — While Veterans Day falls on Saturday this year, numerous programs, events and services are happening all around the Mother Lode Friday through Sunday. Here is the rundown…
Operation Stand Down, planned for Homeless vets and those at risk gets underway Friday at Tuolumne Memorial Hall (18375 Fir Ave.), where beginning at 8 a.m. veterans can register for free dental and veterans' services. The event, which runs until 3 p.m., offers free wifi services, hot meals, bag lunches, takeout food, coats and other clothing along with sleeping bags and blankets.
Also on Friday the Marines of Sonora are hosting a Marine Corps Birthday/Veterans Day dinner at the VFW Post 3154 Vets Hall (9 N. Washington St.) from 5 until 10 p.m. Pizza is being provided by St. Charles Saloon for which there is no charge but a suggested $2 per slice recommended donation will be earmarked for the local VFW Honor Guard to help pay for funeral services of local fallen veterans. Beer and alcohol will be provided by the VFW bar. The event is inclusive to all veterans and their families as well as military-supporting members of the public.
Saturday Ceremonies Begin at 10 a.m.
A Veterans Day Ceremony at the Ebbetts Pass Veterans Memorial District memorial on Algiers Street between Murphys Creek and the public parking lot will kick off at 10 a.m. The free-of-charge program includes student essay reading and a performance by the Calaveras Community Band, whose roots trace back to the Gold Rush days and members span an age range "from 12 to 90 years young."
At Columbia State Historic Park, a Veterans Day Remembrance ceremony begins a few minutes before 11 a.m., specifically in the cemetery's veterans section on School Street. A free event, it will be led by the Columbia Foot Dragoons.
Over at Jametown's Railtown 1897 State Historic Park (18115 Fifth Ave.), free-for-vets train rides, at 11 a.m. and 1 p.m. will be powered by an ex-military diesel locomotive and crewed by veterans. Also free for children five and under, nominal charges apply for non-vets.
A Parade, Tribute and Recognition
Leading off at 11 a.m. is a Veterans Day Parade sponsored by the Copper VFW 12118. Initiating at Copperopolis Elementary on Main Street it winds up at Reeds Turnpike. Among the attractions is a first-responder vehicle and equipment display and Lions Club hot dog lunch at the fire station with a $5 suggested donation.
A Veterans Day tribute by VFW Post 4748 at Tuolumne Veterans Memorial Hall (18375 Fir Ave.) also starts up at 11 a.m. Free and open to the public it will feature speaker-historian Pat Perry, student essay readings and a Summerville High's Jazz@8 performance along with refreshments.
Veterans Recognition Day at the Discover Life Seventh-day Adventist Church gymnasium (40 N. Forest Rd.) in Sonora begins at 11 a.m., offering speakers, music, and a free potluck lunch.
San Andreas Salute, Native Daughters Dinner
In San Andreas, the Calaveras County Historical Society Museum (40 N. Main St.) is inviting visitors to enjoy its newest display from 10 a.m. until 4 p.m. Entitled "Saluting our Veterans: Honoring the Men and Women of Calaveras County Who Served," it features locally-loaned war memorabilia spanning over 100 years. Among the attractions are illustrated pages from the World War I journal of Charles Thompson.
In tandem, the Calaveras Art Council Gallery Store (22 N. Main St.) in San Andreas will present a Celebration for Veterans from 3 to 5 p.m. Described as a gal reception with a backdrop of popular Broadway tunes and John Philip Sousa marches, the council will serve refreshments, remembrances, and offer a last look at the gallery show, part of the Beats for Veterans program, which provides free art lessons to local veterans and their families.
Saturday night in Murphys, beginning at 5, Ruby Parlor No. 46 of the Native Daughters of the Golden West is holding its annual Veterans Day Dinner at the Native Sons Hall (389 Main St.). The festivities will get underway at 5:30 with a flag ceremony by Boy Scout Troop #343. The evening features a spaghetti dinner with wine and dessert, which is free to veterans and $10 for all others from which all proceeds will go towards local veterans' welfare programs. Reservations are recommended. For details call 209 728-8990.
In related news and certainly worth mentioning, Yosemite National Park, like all national parks, will be commemorating Veterans Day all weekend with free gate admission.