Calaveras Bomb Squad Called To Help Handle WWII Explosives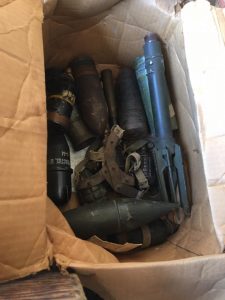 WWII explosives removed from Don Pedro Storage unit Nov 6 2017 TCSO Photo

View Photos
Sonora, CA — Tuolumne County Sheriff's officials called in the Calaveras Bomb Squad to help remove some volatile relics sitting at the Lake Don Pedro Storage Facility in La Grange.
According to sheriff's officials, a woman, while cleaning out her late father's unit there, discovered several World War II era explosives. The bomb technician subsequently took possession of several items. Among them were three Japanese grenades, two American rifle grenades, two large mortar rounds, and a 20mm round to be disposed of in a safe and secure manner.
Officials state anyone who comes across any types of explosive devices should do what the woman did: do not touch or move the items. Instead call authorities who have access to resources that will either render the materials safe or dispose of them properly.