Beer Garden Related Item On Sonora Council Agenda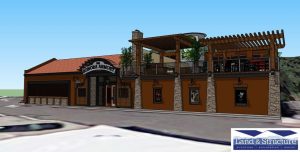 Sonora Armory

View Photos
Sonora, CA — The Sonora City Council will review a revised proposal related to the city owned Coffill Parking Lot on Green Street, south of Stockton Road.
In September the city approved an agreement with the company 55 Properties LLC. to allow the use of Coffill Park to accommodate improvements needed to construct the Sonora Armory Project, which includes a planned new beer garden and entertainment facility being constructed by Trado Restaurant Corporation.
The initial agreement allowed for the placement of a PG&E transformer, installation of associated underground utilities, installation of a grease interceptor, and placement of a bike rack. For access to the property, the applicant also agreed to install new curb, gutter and sidewalks along Green Street, a new planter in the parking lot, add handicap parking, and install a storm drain manhole. The improvements to Coffill Park were estimated to be $110,000.
The property owner would like the storm drain manhole to now be dropped, bringing the overall improvements to $90,000. The change is due to the challenges and feasibility of constructing a manhole access into the rock-lined storm drain, which is approximately 18' wide and 48" deep. The change will be voted on tonight by the council.
In addition, the police department will take time to introduce its Community Service Volunteers. The open to the public meeting starts at 5pm at Sonora City Hall.