Prescribed Burn Starts In Mariposa Grove Of Sequoias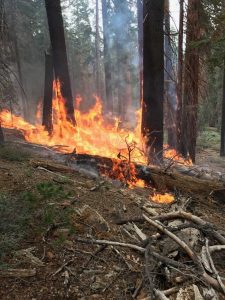 Prescribed Fire In Mariposa Grove Of Sequoias

View Photos
Yosemite, CA — With the cool and damp conditions, Yosemite National Park officials were able to ignite a 70 acre prescribed burn on Friday.
Yosemite officials are taking advantage of the closure of the Mariposa Grove of Sequoias, where a renovation project is underway, to do some planned burning. Smoke is expected to be visible in that area again today.
Yosemite's fire officials report that today's incoming storm system, specifically over the higher elevations, has the potential to be a "fire season ending event." The weather is expected to extinguish, or at least significantly slow, most of the lightning caused fires that ignited over the summer. Fire managers will then be able to transition over to more prescribed fires, pile burning efforts, and thinning projects.