Narcotics, SWAT, High Risk Probation Teams Converge On Drug House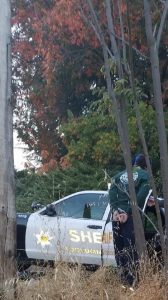 Wilcox Ranch Road drug house arrest Nov 2 2017

View Photos
Sonora, CA — Already embroiled in three narcotics cases a local man was nailed along with a female suspect on more drug charges following a multi-agency rendezvous at his Sonora home.
According to Tuolumne County Sheriff's officials, yesterday morning the Tuolumne Narcotics Team, SWAT, detectives and the High Risk Probation Team served a search warrant at the residence of 29-year-old Dustin Stevens on Wilcox Ranch Road. Following a home search, he and 26-year-old Nicole Ley were arrested. The warrant search turned up methamphetamine and heroin as well as packaging materials, hypodermic needles, drug paraphernalia, a pay/owe sheet and a digital scale.
Stevens, who was out on bail, was booked for committing a felony while out on bail; violating post release community supervision; possession of a controlled substance and possession for sales; maintaining a drug house and being a felon in possession of ammunition; also for having drug paraphernalia.
Ley was booked for possession of a controlled substance and paraphernalia.