Update: Sierra Nevada Winter Storm Warning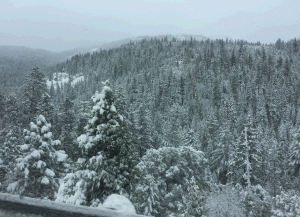 Snow In Sierra

View Photos
The Winter Storm Warning issued for the Sierra Nevada above 6,000 feet will continue until 11 PM tonight.
Afterwards, the Winter Storm Warning continues in the Sierra Nevada above 7,000 feet through 4 PM Sunday.
According to the National Weather Service, snow levels are currently around 6,000 through 7,000 feet. That will lower to 5,500 feet tonight.
Additional snow accumulations of four to fifteen inches is expected above the 6,000 foot elevation.
Motorists planning travel into the mountains during this time frame should be prepared for gusty winds and blowing snow.
A Winter Storm Warning for wet snow means there will be snow covered roads and limited visibilities. Travel is not recommended while the warning is in effect. If you must travel, keep an extra flashlight, food and water in your vehicle in case of an emergency.