Major Calaveras Infrastructure Project Completed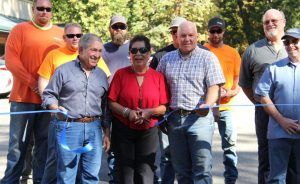 CCWD Reach 3A Ribbon Cutting

View Photos
Arnold, CA — The Calaveras County Water District held a ribbon cutting ceremony to celebrate the completion of its Reach 3A water pipeline replacement project.
The $5.3-million project has been under construction in Arnold since spring of 2016. The project replaced nearly 20,000 ft. of 12-inch diameter water transmission pipeline, which was built in 1965, and had reached the end of its lifespan, according to the district.  An increasing number of major leaks had occurred over recent years. The most concerning was a 100 ft. geyser of water that went into the air near Highway 4 in July of 2013. The Reach 3A project had been put at the top of the district's capital improvement list.
Funding for the replacement came from a combination of a $1.3 million grant from the USDA, a $2.6-million loan from the USDA and $1.3-million from the district's capital improvement fund. The new pipeline is expected to last up to 75 years.