Tuolumne Road Travel Delays Due To Roadwork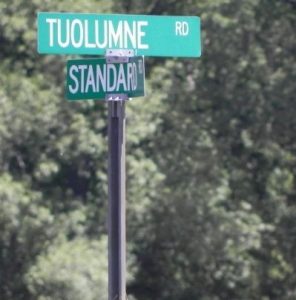 Tuolumne Road at Standard Road Signs

View Photos
Sonora, CA — Complaints of traffic backups on Tuolumne Road prompted a check in with local road maintenance officials who confirm crews are onsite ahead of incoming rains.
According to Tuolumne County Community Resources Agency officials, road workers are handling crack sealing chores under a moving closure, a task that will will likely continue through the work week's end, weather-permitting. It began at Standard Road and is planned along a stretch leading up to Cherry Valley Boulevard.
Consequently, motorists should anticipate cone zones and five to ten minute-delays between the hours of 7:30 a.m. and 3 p.m. at various points in between those roads, officials say. They add that if the work is not completed before the forecast wet weather arrives later this week, it is possible crews will be returning to the area to finish up next week.