$2 Million Bond Assigned To Woman Accused Of Attempted Murder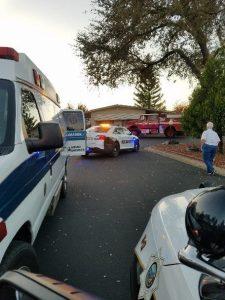 Calaveras County Attempted Murder Scene CCSO Photo Oct 30 2017

View Photos
San Andreas, CA – Jailed in Calaveras County over the weekend on a $2 million bail, a San Andreas woman is accused of attempted murder.
Carol Soares, 66, is also charged with inflicting corporal injury following a shooting that occurred Saturday evening in the five o'clock hour. Deputies responded around 5:40 p.m. to a property on Calaveritas Road at Oak Shadows Mobile Home Park in San Andreas.
Upon their arrival, deputies heard from witnesses that a domestic argument – later determined to have initiated over a vehicle — was heard prior to the sound of a single gunshot. Detectives reported accounts that indicated Soares had allegedly shot the victim through a doorway as he was standing outside her mobile home. The man, who sustained minor injuries to his face, later sought treatment on his own at a local hospital.