Four Pot Busts In As Many Days In Calaveras County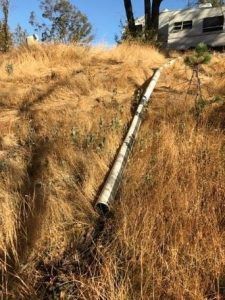 Human waste from a trailer at an eradicated marijuana grow site - S Railroad Flat Rd, Mountain Ranch

View Photos
Calaveras County, CA — Calaveras County Sheriff's Office Marijuana Enforcement Team's this past week raided three properties in Mountain Ranch and one in San Andreas that netted nearly 600 plants, over a thousand pounds of marijuana and several arrests – most disturbing was the human waste found near a ground well.
Agents along with county code enforcement officers armed with an abatement warrant hit a plot on the 8000 block of Avenue A in Mountain Ranch on Tuesday morning and found 94 marijuana plants. Then took down three unregistered grows each day after that. On Wednesday afternoon, the team headed to a grow in the 2000 block of Andreas Vista Drive in San Andreas where 208 marijuana plants were discovered along with 1220 pounds of processed pot. The following morning another search in the 6000 block of South Railroad Flat Road in Mountain Ranch hauled in120 plants and 330 pounds of processed marijuana. A travel trailer on the site had a pipe that was discharging gray water from the sinks and human waste from a toilet downhill just below the property's well access point, according to sheriff's officials. No suspects were found on any of these properties during the raids.
The final bust was on Friday morning in Mountain ranch and involved three arrests. The shakedown happened in the 6000 block of Rimrock Valley Road. In all, seven people were found on the property but only three were taken into custody. Aaron Davis, 34, and Josey Wales, 25, both of Mountain Ranch, were arrested for illegal marijuana cultivation and each received a $5,000 bail. Another suspect, Mark Davis, 57, had a felony warrant out of Nebraska related to drug charges. Several travel trailers that appeared to be the living quarters were also "red tagged" as substandard structures. Agents uncovered 166 marijuana plants, several hundred pounds of processed marijuana, two firearms and ammunition. Several of the subjects identified were persons prohibited from having firearms and ammunition. That information has been turned over to the district attorney's office for possible charges, according to sheriff's officials.
All of the plants were destroyed. The processed pot, firearms and ammunition were seized.