Surveillance Camera Catches Thief In Action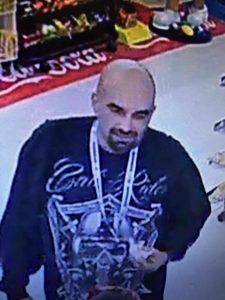 Man of interest in string of thefts
Soulsbyville, CA — Tuolumne County Sheriff's officials are asking the public to watch the provided video in the image box to help them catch a suspect who detectives believe is responsible for a string of thefts stretching from Soulsbyville to Jamestown.
The footage shows a man pulling up, hitching up a trailer and speeding away all while in a stolen Chevy S10 truck, according to Tuolumne County Sheriff's officials, who indicate that the pickup was reported taken from the Mono Vista area.
Investigators advise that the man in the video is considered a "person of interest" in recent thefts that also include forklifts and trailers that were found abandoned by the Willow Springs Clubhouse and the parking lot of the Natures Whole Foods in Standard. Detectives also want to question the man regarding a theft in Jamestown on Wednesday involving items that were stolen from a vehicle tool box at Banks Glass. In this case, a woman can be seen in the footage obtained from a nearby store's camera. It also shows the woman opening up mail that was stolen out of mailboxes in the area.
Sheriff's officials are requesting if you recognize or have seen the man from the footage or picture in the image box to contact detectives at 209-533-5815.